Advantages for rent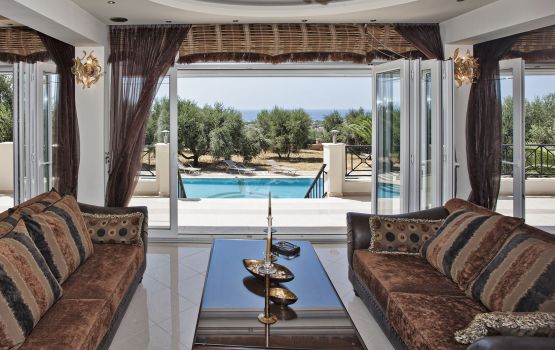 Money Investment Development offers you to buy or rent a wide selection of different villas. Staying in gorgeous villa for holidays means to dip into the luxury. We make luxury affordable for you!
However, the question arises: what can be considered as a villa? Villa is not just a luxurious country house, located on its own plot with variety of park architecture objects, equipped with a swimming pool, but also a country house for an economy class. Accordingly, the price range is wide enough. Business class properties are prevalent in our new projects, although. Secondary market offers lower prices for villas. Villa can be detached house, duplex (dual houses), villas, relating to the complex building or country cottages. Concerning the number of stores, mostly they are 2-3 floors with 2-6 bedrooms. There are usually parking, space for barbeque and large terraces. We consider villas, located in the first line of building, as luxurious property and they are in the higher price category. The villa of complex building can be or business class, either economy class. Most of the complexes have common swimming pool, but u can meet also private swimming pool for each part of the villa`s complex. Also complex may consist of maisonettes and apartments. Duplex is a building with one common wall. Such villas usually situated in close complex, equipped with swimming pool and private territory. There is a difference between duplex and townhouse, the last one has more than one common wall.
Though, the most important thing is not just buying a property in Greece but amazing holidays and excellent source for investment and multiplying your capital in the future. Certainly, in order to spend your holidays in villa it is not necessary to buy it. After all, villa rental is one of our main directions. You are planning to spend holidays with your family or, maybe, you have big cheerful company, either you just want to dedicate time to yourself and you are tired from hotels, which often do not meet your needs – in this case villa rental is a perfect option for you! Villa rental gives you a lot of opportunities in organizing your holidays and release you from hotel`s rules, which are boring with its monotony of meals and stereotyped sightseeing rules. Besides, villa rental is beneficial, because you do not have to pay for extra services in hotels. And of course villa rental will cost you less expensive than same class hotel room. You may rent villa for a short period (1 week) and term period. All villas in Greece are made in traditional style and provide maximum convenience to the guests. Villas equipped with telephone, TV, fully furnished kitchen. Cleaning services for swimming pool are usually included in the price.
Obviously, rental your private villa with all its benefits, is an ideal choice for you. We have selected for you the most attractive villas for rent in Halkidiki by doing numerous researches. We are proud to present you those objects, which carefully were selected by our specialists. Our company has a unique selection of villas: all the houses are professionally designed and high-quality constructed. We will be glad to offer you our services and to satisfy even the most demanding customer. We are looking forward to meet our potential clients.
We will justify you trust and we will be at your service at any time!